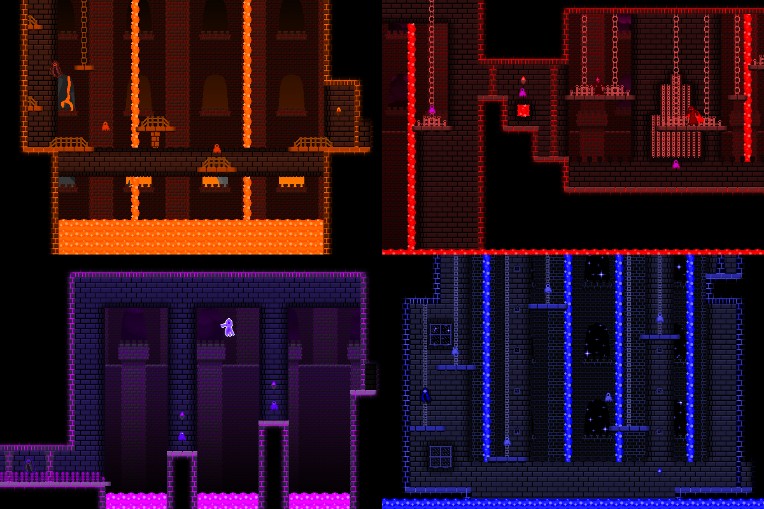 This is version 0.3 of Darkhouse, and it has some significant changes. It introduces new graphics and a new difficulty mode, which I will talk about in this post. You can play Darkhouse here, as well as view the full changelog for this update.
The first and most obvious update is the graphics. Several tiles and tilesets, almost all backgrounds, and a few enemies have been redrawn. Enemies are now brighter and more colorful compared to darker and duller tiles and backgrounds. Previously Darkhouse had bright and colorful tiles and backgrounds, a weird design that didn't look good. There was little variation, and especially in the darker themed Level 5 it was very hard to see enemies and bullets against the similarly colored environment. These graphics changes should make enemies easier to see, and they should make the game look a lot better as well. I've tried my best to keep the monochromatic theme of each level, with some color variation.
The next and probably most important change is the addition of Easy mode. Darkhouse now has 3 difficulty modes to choose from, and they determine how checkpoints function. In Easy mode, there are checkpoints in the middle of every level, where the doors are locked and you must defeat 10 enemies to progress. After this is done, the checkpoint will activate, and you can go set it. In Normal and Hard mode, these locked room checkpoints are never activated. Normal and Hard mode are the same as before.
One thing to keep in mind is that since Easy and Normal mode will keep your checkpoints even after Game Over, you can always leave the game after setting one and you will come back with 3 lives when you start again. In these modes, checkpoints are permanent, resetting after the game is beaten, and a Game Over results in the loss of score instead of progress. Hard mode is the difficulty of Darkhouse when it was originally released, where a Game Over resets all progress.
The first end goal of Darkhouse is climbing to the top and finding it's ending, and Easy mode makes that goal much more attainable. But the second goal, like many other arcade games, is to get the highest score. High scores will be set by completing levels and defeating enemies and bosses for as long as you can without receiving a Game Over. Because of this, Hard mode can be a great way to set a High score, by starting from the beginning and climbing as high as you can with the 3 lives you have. Enemies in later levels are also worth larger amounts of score when defeated, rewarding a players determination and skill.
This update is probably the most significant so far. Darkhouse's graphics has been greatly improved, and Easy mode will allow players to reach even closer to the game's ending. I'm excited to see what people think of it once it's finally revealed. I'm still open to more suggestions for improvement as well, and I'm always looking for bugs to fix.